Chamaecyparis nootkatensis 'Pendula'
(kam-ah-SIP-ar-iss newt-kah-TEN-sis)
Common Name: Nootka False Cypress, Alaska Cedar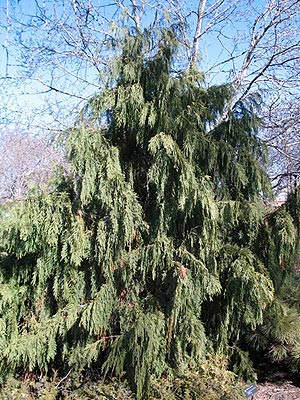 Looking for something unusual, a unique evergreen that turns, relatively quickly, into a botanical waterfall? A bullying, spreading, weeping tree that rules the roost in winter? A tree your neighbors don't have, unless you live in Seattle or Portland? Got just the thing for ya.
Assuming you have a large enough space to place it. C. nootkatensis 'Pendula' is a stately, weeping evergreen with drooping, upward-curving branches and vertical, flattened sprays of bluish green to dark green foliage. It produces both male and female, brownish-green cones in great abundance and to great aesthetic effect.
C. nootkatensis is native from Alaska to northern California, most often found in the cool, moist wooded areas of the Pacific Northwest, though the tree is also found on the upper East Coast. In the wild, in a perfect spot (moist bottomlands, alongside a stream) the tree will grow slowly to a height of ninety feet, and can live for one-thousand years. 'Pendula', the weeping form, is a fluke form discovered in the wild. The nursery industry has taken an interest in the plant for several decades at least, meaning it can be found in the trade across the Midwest and the Northern states. This weeping form of C. nootkatensis generally tops out at thirty-five feet, though in the Pacific Northwest you might get one to forty-five feet. The plant is hardy to Zone 4, with a growing range of Zones 4-7.
Care and Use
You need only one. Plant this tree with an eye toward mature size – thirty to forty feet tall with a spread of around fifteen feet in zone 4, twenty feet in zone 5, and upwards to thirty feet in zones 6 and 7. Of course, you can prune it to control width. Plants prefer average, well-drained soils and medium moisture. Even a mature specimen will appreciate regular watering during heat of summer. Plants will tolerate alkaline soils but thrive in neutral to slightly acidic soils.
Plants prefer full sun in Zones 4 and 5, but appreciate some afternoon shade in Zones 6 and 7. If planted in a hot Zone 6/7, such as Kentucky or Arkansas, you definitely want some afternoon shade. Always plant where it will not be beaten up by drying southwesterly winds in summer or northwest winds in winter (northern zones).
It's a terrific front or back yard tree, anywhere it can be seen in its entirety.
'Delphinium'
(del-FIN-ee-uhm)
Common Name: Larkspur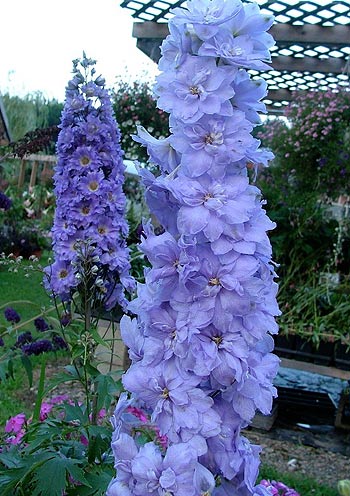 'Misty Mauve'

(Photo courtesy davesgarden.com)
That varieties of Delphinium are considered high maintenance and somewhat more difficult to grow than a majority of perennials is of no consequence to either the writer or the readers of this website. If you want easy, grow day lilies. If you want to further develop your skills as gardeners, grow delphiniums. I may admonish, but I do not pander.
What you will gain from the pleasant experience of mastering Delphiniums is, well, Delphiniums, one of the most gloriously colorful and statuesque perennial to be found in the garden. Depending on variety, these sun-lovers range in height from three to six feet, blooming for a period of two to three weeks in late spring and early summer. They respond well to deadheading, granting your landscape an additional two weeks of commanding color in midsummer.
You will wish to seek out, and most often will find, the newer breed of Delphiniums collectively known as New Millennium Hybrids, bred by Dowdeswell's Delphiniums of New Zealand. These new varieties feature vibrant color, strong stems and increased longevity in the garden. Here are some stellar varieties:
'Black Eyed Angels' – white flowers with black centers (called "bees")
'Blue Lace' – sky blue flowers with lavender-pink tones
'Misty Mauve' – compact selection with double flowered blooms ranging from mauve to purple
'Morning Lights' – lavender-pink flowers with blue accents and white bees
'Pink Punch' – a compact with dark pink flowers with contrasting bees
'Purple Passion' – velvety purple flowers with blue striping and white bees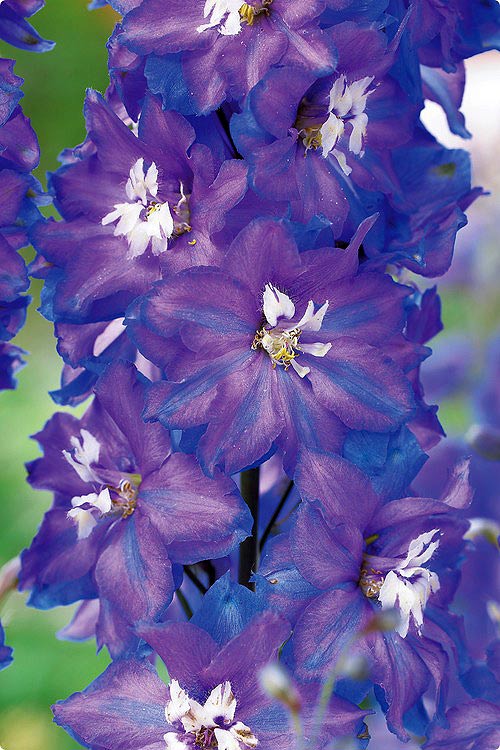 'Purple Passion'
Care and Use
Plant Delphiniums in rich, evenly moist soil that drains freely. The recipe for this is 2/5 black mineral soil, 2/5 compost, and 1/5 sharp sand. Plants require full sun, six hours or more featuring plenty of midday sun time. Most varieties will require staking as they approach bloom. This is what those green-painted, 4' bamboo stakes are for. Insert stakes parallel to each blooming stalk and secure in two places with green twist-ties.
Mulch around plants with a one- to two-inch layer of organic mulch, be it compost, peat moss, cocoa bean husks, dried grass clippings, shredded leaves or pine needles. Do not mulch around perennials with shredded wood mulch or wood chips.
Tall, skyrockets of graceful color, plant Delphiniums in the middle to back of the mixed perennial bed. You want to start with at least three of different colors, planted in near proximity. As you gain acumen and desire for more, plant them in swaths, with singles and triples popping up elsewhere in view.
A good source for New Millennium Hybrids is Ambergate Gardens; their splendid, 2012 mail-order catalogue was of assistance to me in preparation of this article. Visit www.ambergategardens.com.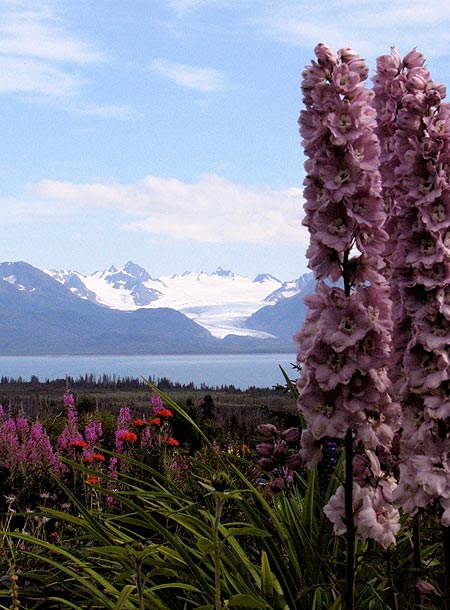 Delphinium, unknown variety, Homer, Alaska
Sunkist arborvitae (ar-bur-VIE-tay)
Fire Chief™ arborvitae
(Thuja occidentalis, both)
I'll kick off the new RG season with a twofer, two grand, relatively new, semi-dwarf evergreens from a genus that continues to evolve and delight: Arborvitae.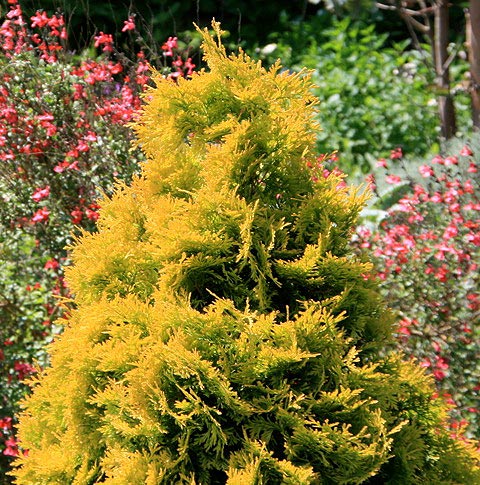 Sunkist further expands the gold/yellow pallet for "evergreens," a term becoming more of a misnomer every time you turn around. It bears repeating: The color pallet for evergreens encompasses light green, medium green, dark green, blue, silvery blue, silver, plum and yellow-to-gold. You don't begin to create sizzling gardens and overall fetching landscapes until you plant non-green "evergreens."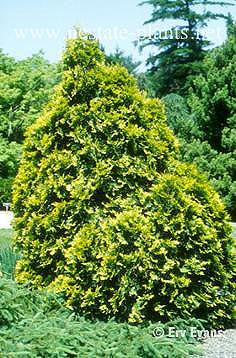 Sunkist as it matures.
Sunkist is a semi-dwarf variety that will grow moderately (6-8" per year) to a height of 10' or more. Unabated, width can approach 8'. Think of it as a more blousy, irregular, broad-shaped yellow arborvitae than the relatively compact and pyramidal 'Yellow Ribbon.' Foliage also lays flatter, in whorls, holding medium green interior color with pronounced gold-yellow new growth in spring and summer. The color dulls a bit toward dusty orange-yellow in winter, but remains striking in the winter landscape.
Care and Use
Sunkist is useful, therefore, in larger landscapes where you wish to create a prominent, background glob of golden yellow. Shearing in late spring, after new growth has stretched out a bit, then again in mid-summer, will keep the plant from developing its inherent, upright globular form, but why? You plant it for this eventual, billowy form. Useful as a screening shrub, though for a formal to semi-formal yellow hedge in the 10 to 12-foot range, I'd use Yellow Ribbon arborvitae instead. Sunkist loves a mildly acidic soil, but does well in alkaline soils up to pH 8. Soil should be well drained. All arborvitae appreciate regular watering and spring fertilization. Full sun is best, though part sun with at least four hours of direct sunlight will suffice. Tolerant of black walnut trees, avoid drying winter winds. Zones 3-7.
Fire Chief™ arborvitae (Thuja occidentalis 'Congabe' PP19009)
Saving the best for second here, this is one of the newest arborvitae and the first to give us new growth tip color in the reddish-plum vein. New growth stems are also reddish-plum. It's eye-popping, in a dwarf semi-globe form, achieving a mature height of 4' tall by 4' wide (to the best of anyone's knowledge). Plants in trials in the north have shown no winter burn. Red foliage mellows to various levels of orange and peach as the season progresses. Winter color ranges from bright orange to dusty red. Plants reject the usual look of arborvitae foliage; as with Thuja 'Mr. Bowling Ball,' foliage more resembles that of a fine-textured juniper or chamaecyparis.
Fire Chief™ is a sport of Thuja occidentalis 'Rheingold' that was developed by one of America's premier plant breeding companies, Pennsylvania's Conard-Pyle Co., creator of the Knock Out® family of shrub roses. How do you know when a nursery company is premier? The company's origin dates back to the Dingee & Conard Co., founded in 1800. What's with the 'Congabe' licensed name and patent number noted above? Whenever you see a trade name followed by a patent number, it means it's very, very naughty to propagate this plant on your own, for any use whatsoever.
Care and Use
Plant Fire Chief™ in foundation beds, in front of taller deciduous shrubs, as a structure plant within the perennial garden, or anyplace it can be seen readily. This is a great shrub to use as a repeating dash in the front or middle of an extended landscape bed. Its more petite size makes it a welcome addition to smaller yards. It can be sheared into a perfect ball, but if that's your thing, you've fallen in love with the wrong website; I'd prefer you allow the multiple leaders to grow so that it retains its natural, irregular shape.
Give it full sun, at least six hour of direct sunlight per day. Reddish color intensifies in full sun exposure. Soil should be average, acidic to mild alkaline, soil that drains well heartily recommended. Regular weekly watering and spring fertilization keep it trouble-free. Plants are resistant to winter burn, not the first choice of deer, and Japanese beetles don't know they exist. Zones 3-7.