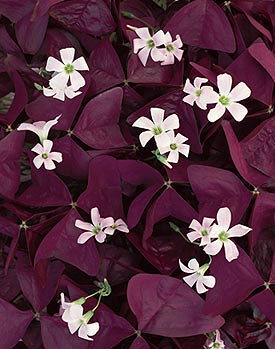 'Charmed Wine,' shade to part shade, 12-16" tall, about equal spread.
Sit down, take a minute, and list all the fabulous annuals at our disposal for containers and garden beds in shade. There's impatiens, of course, and coleus…and impatiens…and, uh, coleus…
To this meager list, add Oxalis, by far the largest genus in the wood-sorrel family Oxalidaceae, over 800 species of which grow virtually everywhere in the world except the polar regions, though richest in diversity across the forests and jungles of Brazil, Mexico, and South Africa. Bless their hearts, over the eons they adapted to shade.
Plant hybridizers discovered them ages ago, and in more recent years the Proven Winners® folks have developed numerous, noteworthy hybrids, a clutch of non-invasive cuties that flourish in shade (plus two killers for sun).
Care and Use
Containers in shade? Oxalis 'Charmed Wine,' baby, pure white trumpet flowers held just above rich burgundy, shamrock-like leaves. A member (as are all the hybrids to follow) of the Renegade Gardener's "Perfect Plant Club," that is, plants that have pretty flowers and attractive foliage working together in harmonious contrast. 'Charmed Velvet' is just as stunning, smaller white flowers dancing across velvety black leaves. Repeat: black leaves.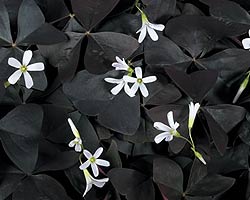 'Charmed Velvet'
Plant either of these two in swaths (or clumps of three) amid the hosta, ferns, and other denizens of shade. They are drought tolerant plants, though will need regular, weekly watering the first three weeks or so, to become established. (In containers, they will handle the higher water frequency container gardening entails). In the garden, plant in decent draining soil that has been amended with a bit of organic matter, and fertilizing is not necessary. Nor is deadheading, unless you're the Renegade Gardener, who deadheads everything because, well, it makes a plant look nicer, encourages more new bloom, and besides, what else is better to do when you're writing an update on a Sunday afternoon and the words stop flowing? You make a fresh pot of coffee, then step outside and deadhead your containers for five minutes.
'Zinfandel'
Skip the deadheading, however, and spent flowers will drop and new ones appear for a solid three months or longer. Like ninety-five percent of what are called annuals, Oxalis is not a true annual; they're perennials in zones 8-11 (someone gardening in Zone 11 give me a holler sometime, will ya? I believe the zone encompasses Honolulu and Brownsville, Texas).
As for the sun-loving cultivars, there are two to note: My favorite this season is 'Zinfandel' (I used one in the container shown and discussed in the new Current Column). A bit shorter than 'Wine,' it mounds up to around 10" and welcomes sun to part sun. My other new love is 'Molten Lave,' as aptly named as any plant I can think of, with the exception of the old European rose, 'Cuisse de Nymph Séduisante,' which translates to, "Thigh of the Passionate Nymph," which was too much literacy for the Victoria-era English to handle, so they changed the name to 'Great Maiden's Blush.'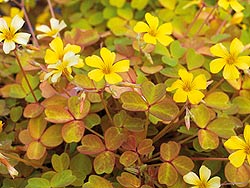 'Molten Lava.' Mounding to 8-10" high. Great at the edge of bowls.

See what five minutes of deadheading does for you?
Both are fabulous in containers. You get terrific bloom, fierce foliage, and unless combined with red geraniums, you can't really screw the container up.
Syringa x 'Penda' (PP20,5750) (Sy-RING-uh)
Trade Name: Bloomerang™ Lilac
Sorry for the confusion above; you're looking at the official plant genus and variety, followed by the required plant patent numbers. What we're talking about is the Bloomerang lilac, a new introduction by Proven Winners®.
And she's a beauty. Among shrubs, lilacs are the spring divas of USDA Zones 2-6, meaning more than half the country. That they don't perform well in warmer climates is due to their need for cold temperatures in winter, and the colder, the better. Anyone who grew up north of the Mason Dixon line can close their eyes right now and conjure up the sweet perfume of lilacs in the spring, for they are among the most fragrant (as well as floriferous) shrubs grown in North America. Plus, lilacs are deer-resistant (meaning they are among the last things deer will eat when really, really hungry).
Bloomerang is a winner for two reasons. It's a dwarf, relative to most other lilacs, achieving a polite height of 4-5' with equal spread. Most important, it reblooms, thus solving the conundrum of devoting space to a shrub that will knock you out for two to three weeks in spring then offer not much else aesthetically for the rest of the season.
Care and Use
Lilacs prefer well-drained soil and full sun. Fertilize once in spring with a slow-release fertilizer. Bloomerang is a powerful engine of stem, foliage and bloom growth all season long, so keep up a regimen of weekly watering throughout the season, particularly in the heat spells.
Deadheading the initial spring blooms after they fade will aid in rebloom, as will deadheading throughout the season. The nice thing about Bloomerang is its compact height; you don't need a ladder to deadhead and shape the thing. Bloom may slow down or cease during the peak heat of mid-summer, but the plant will start blooming again as the weather cools. I spied one last week still producing new blooms, meaning it was showing some nice bloom color on Halloween.
The smaller stature makes Bloomerang an easy choice for foundation beds, property lines, and as a terrific accent shrub in front of evergreens. The plant is not without controversy— Maclean's, a popular Canadian magazine, published an article not long ago decrying the nursery industry for developing reblooming lilacs, thus disrupting their sacred place as a spring-only joy and wonder.
I side with the industry on this one, and say, with lilacs, reblooming is a fine thing. Lilac foliage is unremarkable, and they offer zero fall foliage change and color. They're also not much to look at in winter. Granting them the ability to bloom spring through fall greatly increases their value.