Filipendula ulmaria (fil-ih-PEND-yew-lah ul-MAR-ee-uh)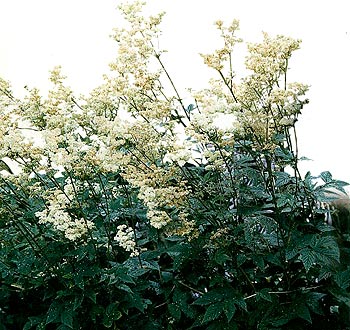 Common Name: Meadowsweet
I'm slowly tiring of all the fancy-schmancy, hi-test (and high buck) cultivars of bizarre-blooming perennials being rammed into the marketplace. I'm not as interested in creating gardens anymore as I am landscapes, essentially an area of trees and shrubs that includes pockets and waves of perennials and annuals.
So give me perennials with free flowing, natural form, attractive foliage, and lovely (but not overpowering) bloom. Give me filipendula.
Care and Use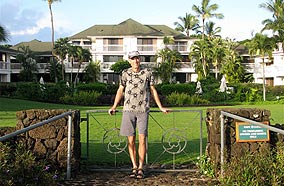 Filipendula ulmaria prefers partial to light shade. Dappled shade in the understory of mature trees is perfect, as are conditions granting morning sun/afternoon shade. Hot afternoon sun is tolerated if the plants are mulched well and the soil kept consistently moist. Even in dappled shade, don't allow the soil to get too dry. Think of these plants the same way you do the astilbes and ligularias; provided the soil in the area drains fairly well, you pretty much can't overwater.
Soil should be neutral pH to slightly acidic, with ample organic content. Space plants from 18" to 24" apart. F. ulmaria will grow to 3' tall (a few varieties, such as 'Plena' can hit 5') with lovely, yellowish foliage that turns toward green as the growing season progresses.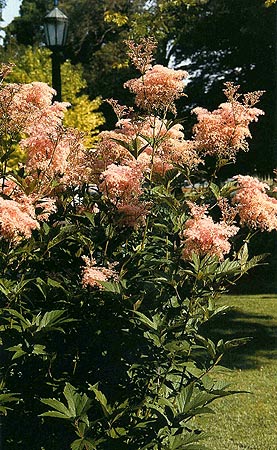 Filipendula rubra
F. rubra (queen of the prairie) is the other species commonly available at nurseries, and is also a stellar perennial for less than full-sun areas of your landscape. Plants can reach 6-8' tall in optimum growing conditions.
Divide plants in spring or early fall, and use a sharp serrated blade when doing so—the clump can be a tough bugger. Plants self-seed fairly readily, so as you learn to identify seedlings, you may discover it's easiest to dig up young plants found growing near the mother plant, and replant them elsewhere in the landscape.
Don't buy just one—filipendula looks best massed, so plant in threes, or fives, or more. Plants will do well (and look terrific) in moist areas, bogs, and alongside ponds and streams.
Hardy to USDA Zone 3
Plant Spotlight will be updated March 10
Polemonium reptans 'Stairway to Heaven' (po-luh-MOAN-ee-um rep-tans)
Common Name: Creeping Jacob's Ladder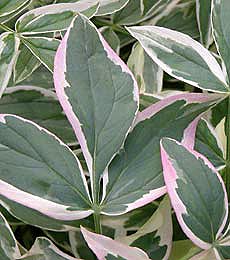 Mike Heger over at Ambergate Gardens in Victoria (MN) calls this his favorite new perennial in the past five years, and I agree it is a true must-have.
'Stairway' is one of most visually commanding smaller perennials you can grow in the woodland garden. The plant forms a low (12") mound of medium-green, long oval leaves, each leaflet strongly edged in creamy white, flushed with pink in spring. In higher light intensities, one can grow 'Stairway' so that the pink remains all during the season.
Care and Use
Though Jacob's Ladder is usually considered a part-shade/shade plant, 'Stairway' also does well in full sun provided the soil around the plant is mulched and you don't let plants dry out. Plants do best in well-drained soil with decent natural fertility and organic material content, or soils in which organic matter (peat moss, compost, etc.) has been added. Small, light blue pendant flowers appear in May and often throughout the summer, but are overall insignificant.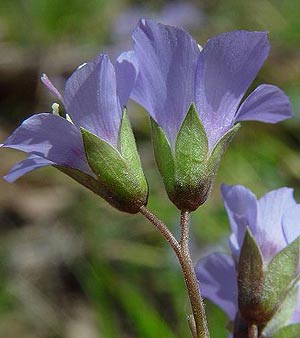 The plant was developed and introduced by the New England Wildflower Society, and since they developed it from strains of the native New England (species: reptans) it has proven extremely hardy to USDA Zone 4.
Buy one, or five, and goof around planting them as singles, or in a trailing wave. You grow this plant so you can bounce that killer foliage off the foliage of something else that grows behind, in front, or next to it. And for the last time, no, I don't include plant-combination suggestions when I do these Plant Spotlights. That's for you to decide, experiment with, figure out, and learn from. Your combination could be way better than mine. That's gardening.
Two Worthy Arborvitaes
No, I'm not losing my mind. Regular visitors to the site will know that I slam arborvitaes on occasion, particularly the overused "Techny," a great, gangly tree-shrub that seems magically to appear growing just off the front-right corner of half the houses between here and Hudson.

But here are two arbs I'm using in my designs more and more:
Thuja occidentalis 'Degroots Spire'
This is a fairly new variety, I don't remember, became available six years ago maybe, and it's about the narrowest upright evergreen you can grow in the north. It's this beautiful, rich, vertical slash that works well with lower, rounded or mounding shrubs or evergreens. It also looks great in formal gardens and landscapes, and makes a nice tight hedge.
'Spire' matures slowly to six feet tall but only then will it approach two feet wide. It's just a cool little rocket that requires little to no shearing to retain its slender shape. The solid green foliage grows toward the sky, so you don't get the kind of messy, flayed-out foliage look of the broader arbs.
'Spire' grows well in slightly acidic to neutral soil, and like most arbs appreciates a good, deep watering every four to five days the first two months after planting, weekly after that the first full season, every two weeks after it's established. That's how I water them, anyway, and they flourish.
Flourish in FULL SUN, that is. This is an arb that prefers a minimum of six hours direct sunlight; more is better.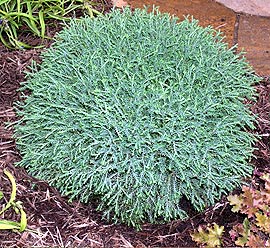 Thuja occidentalis 'Mr. Bowling Ball'
Here's a new variety (Note: same genus, same species, different variety) that became available two years ago. Also slow growing, Mr. B features very dense, sage-green foliage that is remarkably fine, resembling a fine-textured juniper or a chamaecyparis.
It tolerates a wide range of soil types and pH range, but does like good drainage. Mature height and width is three feet by three feet, and if you want to shear it once a year you can keep it perfectly rounded, if that's your thing, or leave it alone and let it acquire a slightly erratic, mounding shape.
Assuming you mulch with shredded hardwood, you don't need to water as frequently as 'Spire.' Water moderately once a week the first two months after planting, every ten days to two weeks after that, and they will do very well. Oh, and while the plant is fine in full sun, it will flourish in part shade, morning sun/afternoon shade, or vice-versa.