"Trees roots can grow into a house foundation and cause damage."
With some frequency I encounter homeowners concerned because a mature tree on their property was planted quite close to the house (usually by a previous owner). They are worried that the tree's roots are going to grow into the foundation and cause it to buckle or crack, then possibly be further damaged by roots growing into these cracks.
Tree roots can cause damage to house foundations, but not in the manner above.
First, let's address the concerns of homeowners in possession of homes with basements—Midwesterners, in other words. (Being from Minnesota, I believe I was in my mid-40s before I discovered that not every home in America has a basement.) It's not the strength of the tree root, or its ability to penetrate a poured concrete or concrete block foundation that potentially can cause a problem, because the force of a tree root in and of itself is not capable of performing such a feat.
Foundation problems can and do result, however, from what tree roots are doing in the first place—sucking up water. Unless the soil around the house foundation is very dense and was properly compacted after the foundation was installed, tree roots can cause slumping and shifting of the soil as they draw out water. Tree roots grow larger each year underground, to the point where a mature tree will grow roots so large they may also loosen and heave soil due to their changing girth. It is the combined effect of these two root characteristics that can cause enough of an imbalance of pressure in the soil surrounding a house foundation that it may strain outward and crack.
Root growth will not enlarge these cracks. Tie a hemp rope tight around the trunk of a tree, and in three years you'll see that the tree is girdling, unable to snap the rope. A tree root finagling its way into a crack in a vertical concrete basement foundation will not be strong enough to jackhammer concrete, or overcome the thousands of pounds of pressure resting on that portion of foundation.
Poured concrete foundations—slabs, I believe they are called—are a different matter. An oak or other large variety of tree planted near a concrete slab foundation (or concrete patio or sidewalk) that grows UNDER the concrete is in the soil unimpeded, and as it gains girth each year it certainly may cause the horizontal pad to be lifted and crack. What happens more often, however, is the root draws water, the soil slumps, and the pad cracks due to not enough pressure from underneath.
I would say ninety-nine times out of hundred, trees in our yards live their whole lifespan without damaging a house foundation. Remember, the length of a tree's root system can easily be twice the height of a tree, meaning if roots always caused damage, we'd never be able to plant an oak or maple or linden within a hundred feet of a house.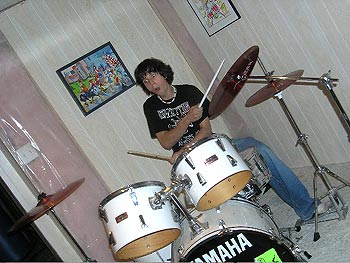 The Renegade Gardener's spawn flourishing in the Renegade Gardener's basement.
You can ensure against the potential for root damage by not planting trees that get large closer than twenty feet from a house, but you need to go that far away, and farther, so the tree's crown doesn't hit the roof. I often plant small trees—magnolias, slim ornamentals—six to ten feet from a house foundation, and will plant dwarf evergreens as close as three. These plants do not develop massive, deep root systems, and are not going to draw so much moisture from the soil around the foundation that it will cause problems.
For mature trees near homes—I have a 150 year-old oak about ten feet from mine—best advice is keep them watered in summer, and keep the shrubs and perennials in your foundation plantings watered. This will keep your soil suitably compacted around the foundation.
A final question to readers in Florida and Oklahoma and California who don't have basements: Where do you store all your junk? Where do you start your seeds under lights? Where do you put the ping-pong table and the drum kit?
"The Renegade Gardener is Infallible"
Someone on GardenWeb keeps spreading this ludicrous lie, and it ends now. As any regular reader knows, I've had my share of bald moments, such as the time I glibly declared that rumors of cocoa bean mulch being potentially harmful to dogs were laughable, noting that my twenty-pound pug had once devoured an entire two-layer, chocolate fudge birthday cake with little more side effect than drinking lots of water and begging for seconds.
An astute reader e-mailed me clips from research showing accounts of cocoa bean mulch causing harm to dogs (rare instances), along with her comments noting the different chemicals found in different forms of chocolate that I duly reported, didn't understand, and don't begin to remember.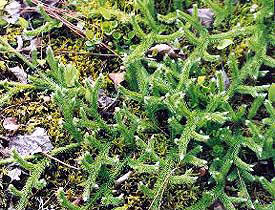 Lycopodium clavatum (running club-moss)
This time around, kudos to esteemed comrade Laura from New Richmond, Wisconsin (sweet little town, and birthplace of my favorite sister-in-law) who has provided us the answer to the mystery of the fabulous native groundcover pictured in an archived article, Lessons from the Wilderness II.
The photo is one I shot during a spring walkabout in the northern Ontario wilderness. I remember devoting at least thirty, forty seconds to my native plant books in hopes of identifying the plant, and then wrote the following:

The early jump I've made this year is proving to hold some advantage. Not thirty feet from the cabin I spy a sprawling, amazing groundcover I have never seen before — it becomes hidden later in the season. Needle-like leaves of the softest green are tipped in white along spreading branches that measure five feet out from the mother plant. Is it Crowberry (Empetrum)? I wish I could see it in bloom, if it blooms per se. If the nursery industry ever got their hands on this it would fly off the shelves. Hopefully, like so many plants up here, it won't grow in anything resembling friable soil, and will remain a wilderness secret.
New Richmond Laura read the article and recognized the plant as the same one she marvels at growing wild throughout the woods of northern Wisconsin. Some ruthless Googling led her to a forest ecologist who took one look at my photo and identified the plant as Lycopodium clavatum.
Empetrum, ha! I'll fire the man who told me it was an Empetrum. Not only did Laura correct my error, she turned us onto this terrific Web site, of help to northern gardeners on a mission to identify all the magnificent and magical plants we spy when we are out for a wander in the woods: www.botany.wisc.edu/wisflora.
"Crabgrass pre-emergent should be spread on the lawn every spring"
Wrong. Crabgrass pre-emergent knocks out the seeds left over from last year's crop of crabgrass and it should take no longer than a couple of springs, three at the most, to wipe all the seeds out. Homeowners who unwittingly apply a crabgrass treatment each year, every year, long after the crabgrass has disappeared, are dumping chemicals onto the earth that need not be dispersed.
The same goes for those infernal lawn service companies who sign households up for decades of annual lawn weed herbicide treatments. Once you get the crabgrass taken care of and any other weeds killed off, seed thin areas in early spring with grass seed, and knock it off with the chemicals.
Keep those astute e-mails and letters coming in!
"Plant trees a little deeper than grade because roots deeper in the soil find more water"
An old, old, old myth, and an equally old argument (English gardener William Lawson is on record in 1618 as being dead set against the practice) that has been debated literally for centuries.
I thought everyone was hip to the dangers of "planting deep," but an e-mailer from this summer had just watched her landscaper plant seven deciduous and evergreen trees several inches below grade, questioned him on it, and was told by this "professional" that planting deep was the best way to go. So I guess the myth lives on.
The argument, however, ends here. As plant roots develop underground, they seek out the perfect mixture of air and water. Force too much water on the roots and a tree will die. Just ask anyone who planted a tree at grade, or even a few inches high, then mistakenly watered it every day.
When trees are planted deep, the roots tend to grow up, seeking some air to go with all that moisture. In doing so, they lose their orientation and run the risk of crossing over other roots and/or circling back around the root ball. As these roots grow larger, they strangle other roots, resulting in slow growing, unhealthy trees, and even death.
Trees should be planted level to grade or even a few inches high. Test after test has shown that this ensures the highest percentage of success.