Au Revoir, Auf Wiedersehen, Gesundheit
In this update: Grand Gardens; More on Mulch; An Arborvitae, of All Things; A Father's Garden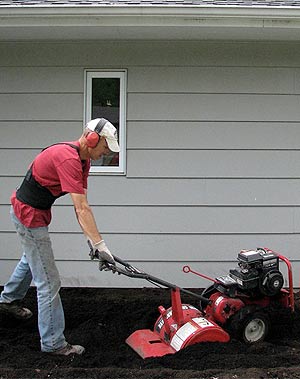 Ah, the first job of the season, when even I kid myself that everything will be easy as tilling in compost to black, Minnesota mineral soil.
06-16-11 – MY WRISTS HURT, and as even the most erratic visitor to this site will know, it's not from typing any recent updates on my keyboard. May and June are the busiest months for landscapers; we start out all clean-shaven and strong, attacking our first jobs of the season with vim, speed, and precision, until about three weeks into it when torrential rains, clay soils, flat trailer tires and failed, eighty-cent "O" rings on our Bobcats (inspiring hydraulic failure and $248.00 in labor) beat us down, whimpering, into mud-encrusted fetal positions, my crew and I reduced to loam-coated pretzels made soggy by the rain. One gets used to it.
We did finish a job last week in dry weather, however, the final day involving little more than the laying down of 14 yards of shredded hardwood bark mulch. With pitchforks, two square feet at a time, on a glorious 103-degree day. Which is why my fingers feel thick and my wrists hurt.
I'm also aware I owe all fine renegade gardeners one final, full update before the site reverts to Archive mode for summer, so here it is. In addition to the new Current Column that continues below, click on Plant Spotlight, Top Pick, Myth of the Week and Don't DO That to partake of all manner of fresh horticultural heresy. Now on with this column …
A Simple Secret
I taught a container gardening class at a local nursery in mid-May, always fun, I can pick out and use any plants I want, and chat my way through five or six container creations while drinking free coffee. The nursery had advertised that the container arrangements would be given away; at the conclusion of the class they drew names out of a pot.
One of the arrangements—a bowl—came together so quickly and was so easy to do, it mysteriously wound up under the demonstration table during the drawing, and then somehow moved into the back of my pickup as I was preparing to head home.
Here's a photo of the bowl about three weeks later, and here's my point: Creating beautiful container arrangement is simple.
Simple, that is, if you remember this: It's all about foliage contrast. Here are the plants, clockwise starting lower left: Hypoestes 'Splash Select,' Lysimachia 'Walkabout Sunset,' Oxalis 'Zinfandel,' Geranium 'Indian Dunes,' Sedum 'Angelina.'
Bowls are neat because of the shape, wider than they are tall. Bowls should be planted as medallions; you tend to view them from above. So what I want is major contrast in foliage color, leaf form, and texture. I didn't pick these five plants for this bowl, I grabbed a bunch of plants that had strong foliage characteristics, then, while still in their pots, I experimented in front of the class placing different combinations of a dozen or more plants into the bowl. These five plants immediately looked grand together.
Keep it that easy. Two of these plants bloom yellow—the oxalis and the lysimachia—while the geranium will bloom a coral pink. Perfection would be that one of the yellows bloomed in blue, but no matter. Bloom color is a secondary concern in all things: container design, flower garden design, landscape design.
If you're new to the sight, I explain container garden design in much more detail in the article, Crafting Cool & Creative Containers.
Let's Create Grand Gardens
Recently I caught myself lapsing into normalcy, an unwitting, slow slide into subservient attitudes concerning gardening and what should be expected. Homeowners want their properties to be ninety-percent turf grass, fine, per square foot it's an inexpensive solution. If a person doesn't think white rock mulch covering narrow foundation beds filled (or not filled) with a meager little tutu of struggling shrubs and the odd tree circle dotting his lawn look hideous, who the hell am I?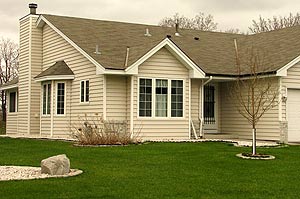 Shoot me.
I have a long-standing client who calls every evergreen on his property a pine, even though most are spruce, except for the magnificent specialty firs I've planted over the years. So what, his checks always clear. The fine and feisty women over at GardenRant.com have a manifesto on their home page that includes the statements, "In love with real, rambling, chaotic, dirty, bug-ridden gardens," and another, "Bored with perfect magazine gardens." When I first starting visiting the site and read the manifesto I thought yeah, right on—rambling, dirty gardens are what most turn out to be, chaos is the norm, perfect magazine gardens are unachievable. I'm easy.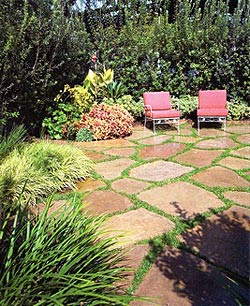 One of those perfect magazine gardens. Is it better to be bored by it, or aspire to it?
Then last summer I went to the symphony, something that occurs to me to do every three years or so. My parents took me when I was young. We have a good one in town, the Minnesota Orchestra, highly acclaimed, ranked by some as one of the finest orchestras in America. And during their magnificent performance—I had opted for Beethoven, of course, neophyte that I am—it occurred to me. Without striving for greatness, without being able to see (or hear) a creative art form at its highest level, the bottom falls out. Mediocrity becomes the standard.
Just as the recordings of the Minnesota Orchestra allow the fourth chair trombonist of the Cedar Rapids Orchestra something to aspire to, grand gardens (and landscapes) create a top level for the bar that makes the median higher. The Cedar Rapids trombonist may never develop the talent to leave that fair city for a bigger and better orchestra gig, but he or she will understand at least what it takes to move up a chair.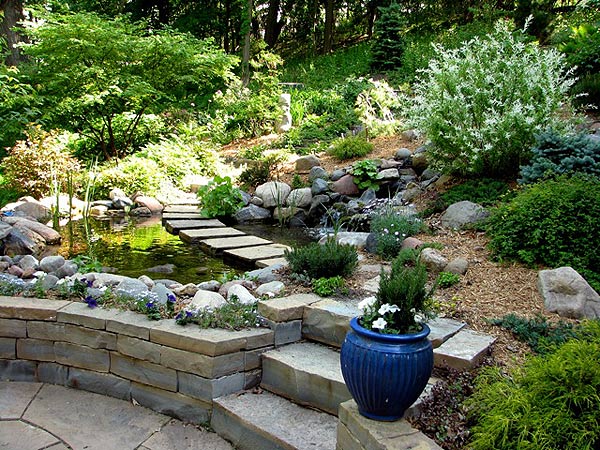 One of mine, I'm proud of it, and I can do better.
Thomas Hobbs residence, Vancouver, British Columbia.
Most people do not care much about the landscaping in their yards. That not every homeowner or even every gardener wants to achieve at a high creative level makes the quest for this achievement all the more important to those of us who do. Let's create grand gardens. Too often of late we hear the opinion that opulence, grandeur, and striving for perfection are not admirable qualities, and in the worst circles, that acknowledging excellence just isn't fair. These sentiments combine to lower the bar, until the highest glories that exist for mankind to aspire to and behold vanish. Orchestras play Beethoven for a reason.
I now find it paradoxical that the first statement in the GardenRant manifesto is, "We are convinced that gardening matters." You're damn right it does. And if gardening matters, what matters most, is gardening well.
More on Mulch
My local supplier has a new product, shredded hardwood BARK mulch, in addition to what I had been using for years, plain shredded hardwood. My tip for you is start mulching with shredded hardwood bark, it's darker, finer, stays in place better on slopes, and does a more thorough job of blocking sunlight from the soil, thus keeping weed seeds from germinating. It's also all tree bark, so you don't get the big hunks of wood pallets that didn't chip down properly when manufacturing plain hardwood mulch.
| | |
| --- | --- |
| | |
| A portion of the 14 yards of shredded hardwood bark we laid on the job last week. | |
So call around to your local suppliers and start using it. I get it for $22 per yard wholesale, not sure what the price is to plebeians, but I expect it's around $30 per yard. Worth it. If you don't know the ins and outs of using shredded mulch, review this article: The Shredded Truth.
An Arborvitae, of All Things
Had to mention, the landscape we mulched was one I had designed and installed three years ago, so it was fun to see many of the plants shaping up. And dagnabit, I'm enamored by a relatively new variety of Arborvitae, "Mr. Bowling Ball." (Thuja occidentalis 'Bobazam')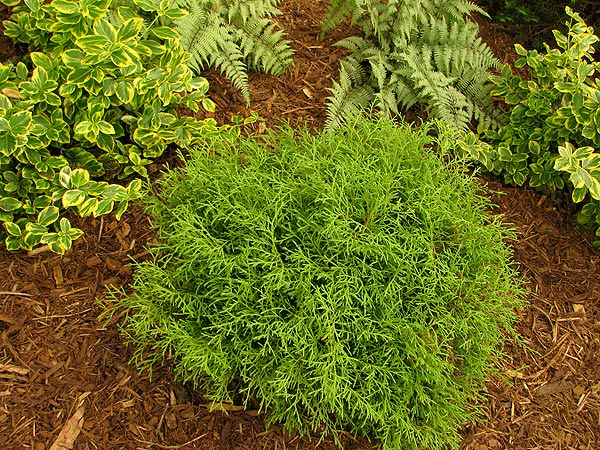 Quite small when planted, in its third year this specimen now measures around eighteen inches across, heading toward a mature size of thirty inches wide by twenty-four inches tall.
Whoda thunk it? I find many arbs dreadful, but I've started popping Mr. Bowling Ball into my designs and now I'm smitten. Unlike most arbs, it really does hang in there and grow well in part shade. And while I'm not a "ball-guy" (I'm not a fan of shearing plants into ball shapes, unless you own a summer home in England), left alone, Mr. BB mounds out naturally but gets just enough off-kilter to be charming.
Nice little evergreen.
A Father's Garden
On a Saturday a few weeks ago I ran over to my dad's to help him plant his garden. He phoned twice, once to be sure I had his list of plants correct, a second time to remind me to come. Yes, yes, yes. You want four tomato plants, two 'Early Girl,' one Oregon cherry, and one that I pick. Like a Big Boy? No, no, says dad, those are overrated, get one of the new seedless varieties, you choose. Get small plants, he reminds me, eight to twelve inches tall, not some flowering stalk in a big bucket they sell for forty dollars to people who think they'll get better tomatoes because the plant is tall and in flower.
One green pepper, he continues, doesn't matter, they're all the same, one eggplant, I like a nice eggplant to fry in a pan with parmesan cheese and a little salt and pepper, and get me a starter pot of rhubarb, I left my plants at the house when we sold it and forgot to dig a piece, so haven't had any the past six years and I miss it. It won't be much this summer but next year I'll have rhubarb, they never serve it here. Keep the receipt so I can pay you for all the plants, it could total thirty, forty dollars, the rhubarb these days, they charge ten bucks. Yes sir, I say.
So on the appointed Saturday I ran over to his apartment at Friendship Village, a very nice retirement complex he and my mother moved into six years ago when they sold their home. Mom died only a year of so later, but dad keeps the apartment tidy and uses the nice dining room for meals much more than he cooks, and gets out fairly often with family or some of the younger inmates (as my father refers to them) who live there and still drive.
Saturday he was in the lobby waiting for me as I pulled up, chatting with a passing friend, decked out in his gardening clothes, jeans, a short-sleeved work shirt, ball cap, dark glasses, Redwing boots. I helped him up into the passenger seat of my pickup, and we headed to the garden plots that are reserved for the residents who like to keep a garden.
After parking nearby, the walk to the garden plots is another ninety feet. Dad walks slowly, with a walking stick, chatting the whole time about what we're going to plant and how we're going to do it. Did I remember two stakes for the tomatoes? I don't like cages, he says, I can't get out here often enough to keep pulling the branches higher up the cage, you plant one tomato plant on either side of the stake, then you can tie two to one stake, I think they grow better. Yes, dad, got the stakes and a hammer right here.
I mixed some slow-release granular fertilizer into the soil, and planted all the plants under my father's watchful eye. Plant those tomatoes deeper, he says, right up to the bottom leaf, they grow more roots that way, put the rhubarb over there, it'll get big in a few years. I finish planting, then mulch all the plants and water them in with the hose and watering wand stationed nearby.
The plots have drip-line water hoses running through them, and dad tells me he's talked to the grounds crew who assure him the plants will get sufficient water so the residents don't need to worry about getting out there every few days to water. But I plan to get over here every few days, he says, the shuttle takes us, I want to make sure the plants are doing well.
What intrigues me about all this is that my father is ninety-six years old. All his life he's been a gardener, and what that means is, come summer, he needs to garden. Gardening is as natural to him as breathing, both of which he's been doing for quite some time. Is there any other hobby that inspires such passion, vigor, and blissful ignorance of mortality?
He reminds me that while he's gone—he left today with my brother for a week up at the family cabin—if possible, I could come out and just check that the plants are indeed getting enough water. I tell him of course.
So this Sunday I plan to run over there, and check my father's garden. It's the most important thing I can do for him on Father's Day.
Well comrades, that wraps it, now I take the summer off from the site, coming back with new articles after my landscaping season ends in the fall. I'll shoot plenty of pictures. Have a great summer, see you in November.
Renegade Gardener
Current Column will be updated with an article from the Archives on July 15. New Current Columns will begin November 1.
To link to this page, use this URL: http://www.renegadegardener.com/content/182_au_revoir.htm